M/Y Cassiopeia
About cassiopeia
Cassiopeia, completed and launched in 2004 in Zaandam, represents the highest quality craftsmanship and engineering throughout, by Holland Jachtbouw and partners. This modern classic 32-metre-long motor yacht is the perfect accommodation for family holidays.
The American Langan Design Associates is responsible for both the exterior (Bill Langan) and the interior (Candace Langan) of Cassiopeia. They would later also design Cassiopeia's successor Calliope (2010) for the same owner. Her classic and elegant lines give her a majestic look, even though she glides comfortably through the water at a cruising speed of 17 knots, thanks to innovative engineering.
Cassiopeia proved to be a superyacht in every way, while cruising remote locations around the world. She is still an example of what can be achieved when the capabilities of a motor yacht are combined with the style and attention to detail that are usually reserved for sailing yachts. In 2014 Cassiopeia was refitted, to maintain her external beauty and technological delights.
Interior
The tasteful, predominantly teak interior of this exclusive Gentleman's Yacht contains a perfectly balanced combination of traditional styles with modern details. The main salon and other rooms have large windows, which provide plenty of light, as well as panoramic views. The homely atmosphere in the main salon is due to its comfortable armchairs, sofas and a large separate dining area.
Cassiopeia can accommodate up to seven guests, spread over a master suite, VIP suite and a twin cabin with an additional Pullman. All cabins have en suite bathrooms. In addition, she offers space for five crew members.
Technique
Cassiopeia is equipped with two MTU 16V 2000 M90 engines, which deliver a combined power of 3600 hp (2650 kW). She is powered by twin screw propellers. Her cruising speed is 17 knots and she achieves a maximum speed of 24 knots.
She has a semi-displacement aluminium hull and superstructure, is built to American Bureau of Shipping (ABS) regulations and meets all MCA standards. Furthermore, she is equipped with a state-of-the-art stabilization system from NAIAD Dynamics, which reduces the roll motion effect and results in a smooth, pleasant boating experience. The Stabilization AtRest System prevents Cassiopeia from rolling when anchored. When swell is detected, sensors send a calibrated signal to the electro-hydraulic servo valves, causing the fins to rotate immediately. This generates significant force and suppresses the boat's tendency to roll. As a result, the comfort for all her guests remains optimal under all circumstances.
Entertainment
This family-friendly superyacht features state-of-the-art entertainment and communication systems. On top of that, she is abundantly equipped with a wide range of water sports equipment to keep her guests entertained.
Cassiopeia is equipped with an ultra-modern stabilization system which reduces roll motion effect and results in a smoother more enjoyable cruising experience underway.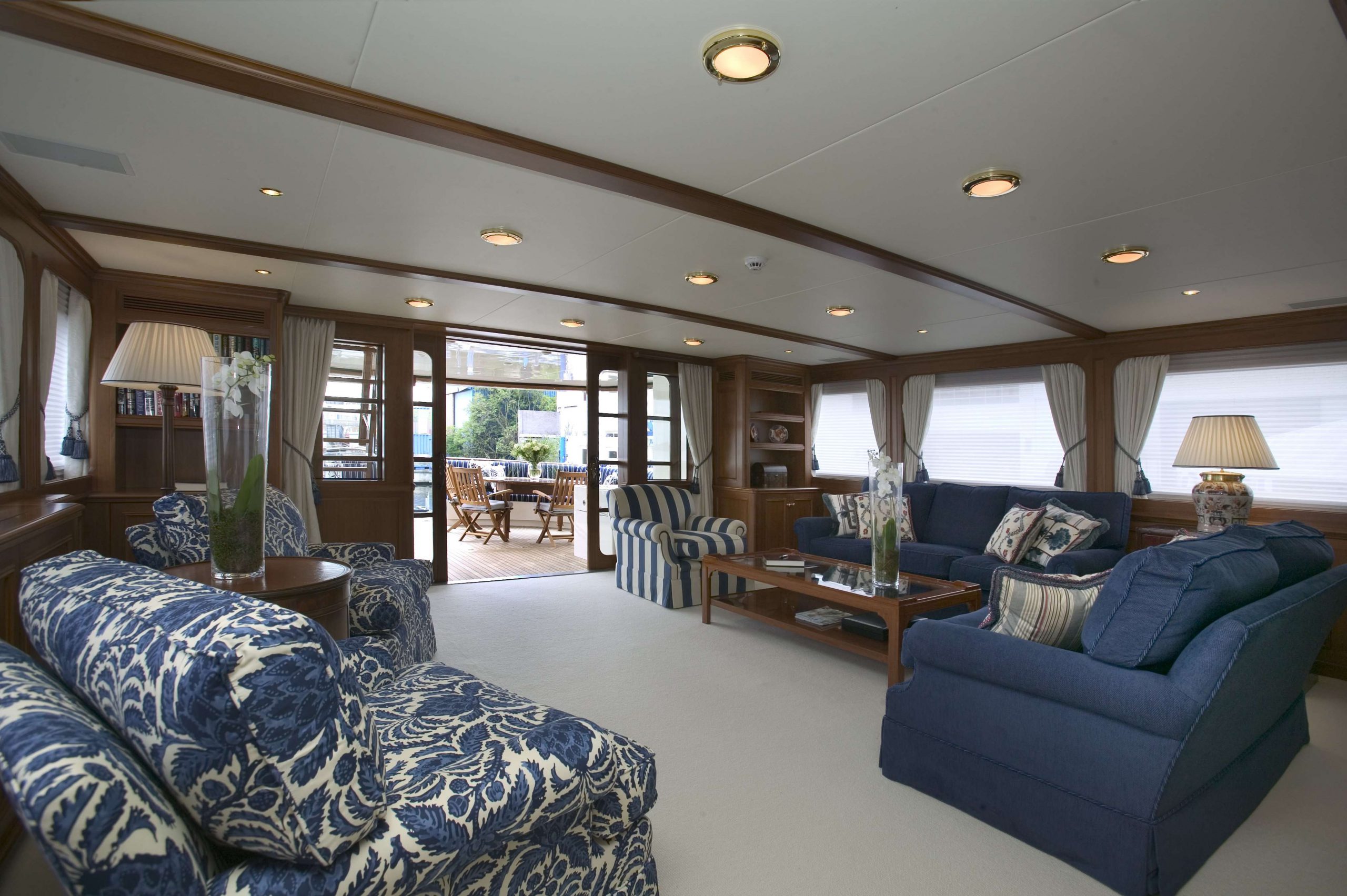 Specifications
| | |
| --- | --- |
| Length Overall | 31.09 m (105.3 ft) |
| Length Waterline | 27.20 m (89 ft) |
| Beam | 6.84 m (22 ft) |
| Draft | 1.93 m (6 ft) |
| Displacement | 104 tons |
| Year of Launching | 2004 |
| Design | Langan Design Associates inc. |
| Interior design | Langan Design Associates inc. |
| Guests | 7 |
| Crew | 5 |
| Engine(s) | 2 x MTU 16V 2000 M90 Diesel, 1800 HP, 1325 kW |
| Cruising speed | 17 knots |
| Top speed | 24 knots |
exterior
In open water
Cruising
Near a small town
In calm water
Interior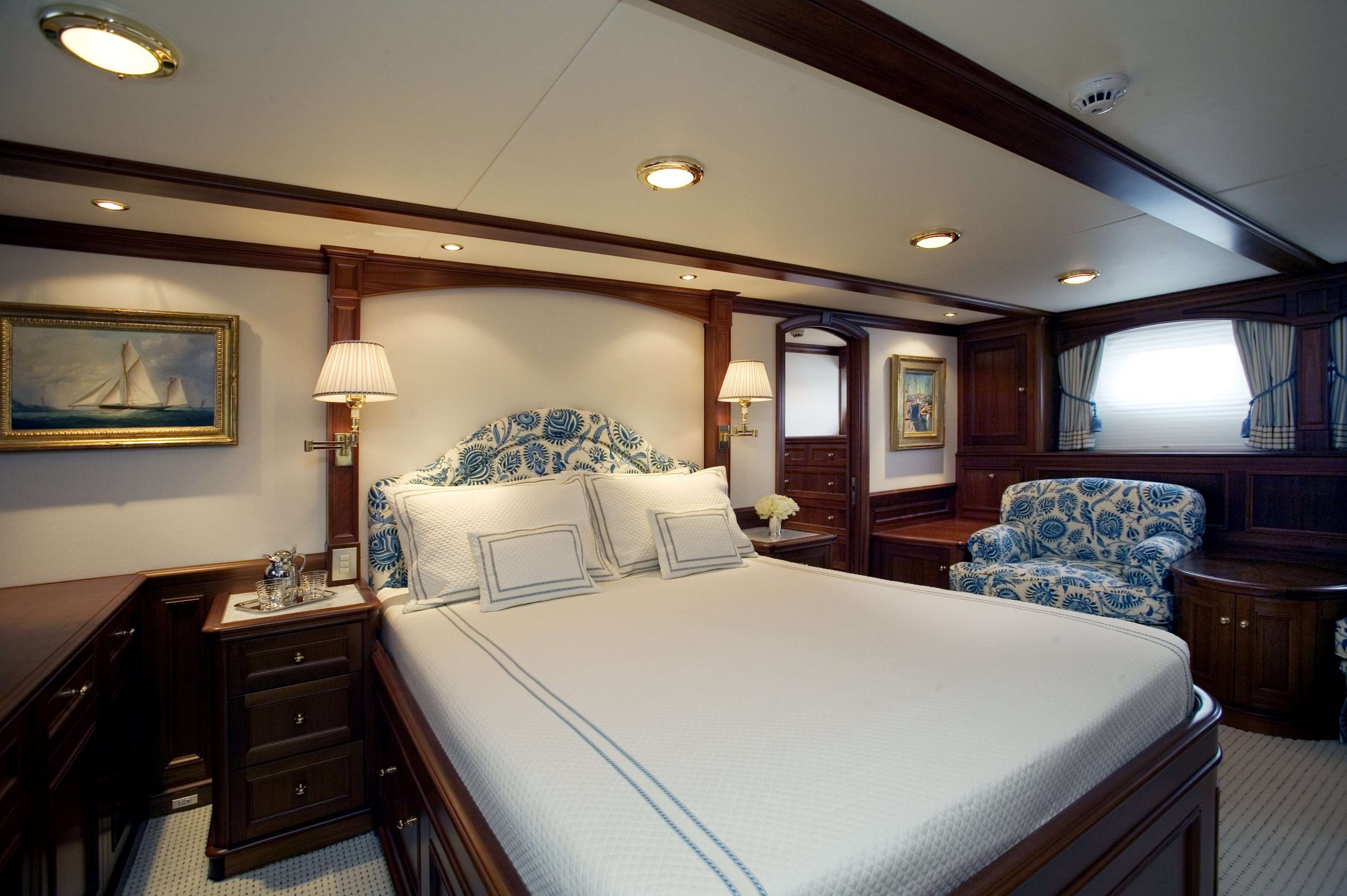 Cassiopeia Bedroom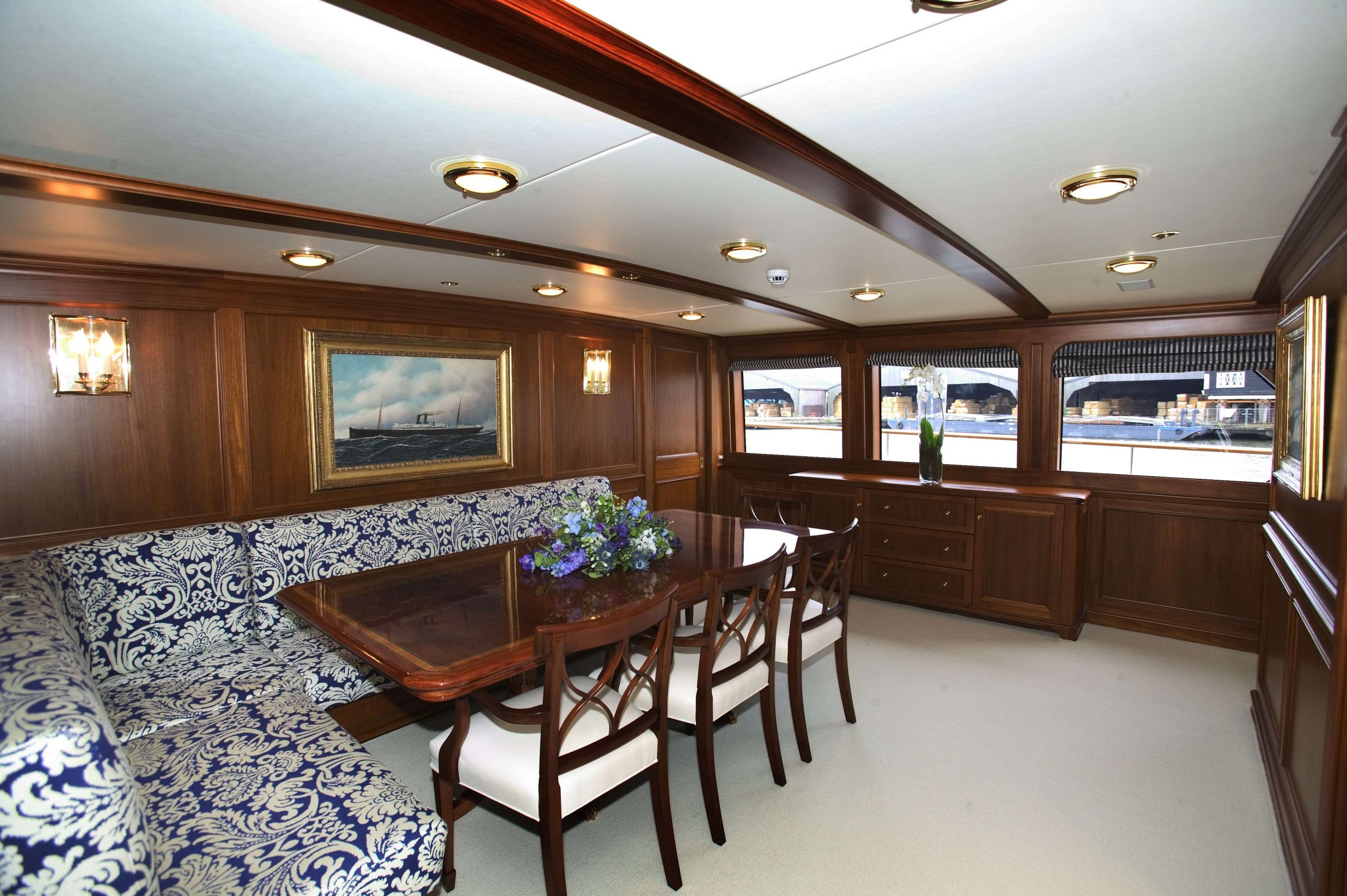 Interior
cassiopeia interior