Fabulous Character
Formerly knows as Calliope & Ninkasi
About Fabulous Character
Fabulous Character (previously Ninkasi and Calliope) is an award-winning tri-deck motor yacht. This 42.3 metres long yacht was designed by Langan design Associates and built and launched by Holland Jachtbouw in 2010. Her owner (who had previously owned Cassiopea), specifically asked to build Fabulous Character under the supervision of Nigel Ingram of MCM.
Built to the most rigorous standards, Fabulous Character is equipped with the latest of technical developments in sound abatement, stabilizer technology and electronic navigation. She also features a highly specified and fully integrated bridge. Her sturdy, seaworthy design guarantees the smoothest of travels at a top-cruising speed of 16.5 knots. Stabilizers ensure that the stay on board is also comfortable while the boat is at anchor.
Holland Jachtbouw's superyacht Fabulous Character accommodates ten guests, spread over five luxurious guest cabins. On top of that, she can also hold nine crew members on board.
Interior
Fabulous Character's contemporary modern-classic interior was inspired by the idea of combining elegant, classical architecture with carefully chosen, modern furniture. In close collaboration with the owner Rhoades Young Design developed a classical style for the cabins. They were inspired by the typical French castle architecture, featuring elegant curves and flowing lines. Additionally, some English and Asian design styles can be recognized. The interior is finished in limed oak and teak and features fresh blue and white upholstery, combined with other neutral tones. The owner wanted the ability to entertain his guests on board both formally and informally, which is perfectly possible due to the mix of styles.
The interior spaces include a relaxed lounge and dining area on the main deck, which can be separated by a Japanese Shoji screen for intimate dining. The sky lounge is located on the bridge deck, which is largely covered with teak and spans the entire width of the yacht. Below the bridge deck, inside and outside merge together when opening the large, classic sliding doors between the aft deck and the salon.
In front of the upper saloon lobby are the captain's cabin and the bridge, which includes an office that can be closed off with a screen. An elevated seating area has been designed to match the eyeline of the helm seats. This provides a good view and allows the helm seats to swivel and become a part of a flexible social area.
In accordance with the classic-modern style mix throughout the motor yacht, the bridge is fitted with classic teak. It features a state-of-the-art front bridge console, which is finished in leather and rosewood and is fitted with floating screens. Above the bridge deck is an expansive sundeck with a jacuzzi as the centerpiece, surrounded by chairs, large sunbeds and a seating area for great casual lounging.
With her tasteful details, this unique superyacht offers luxurious accommodation for ten guests in a beautiful, yet sophisticated setting that makes the most of natural lighting. One of her most eye-catching features is the offset reverse spiral staircase, provided with marble steps and wooden paneling. This staircase dynamically connects the three decks. At the bottom of the spiral staircase are the lower guest quarters, which are divided into four guest cabins, symmetrically situated around the circular lobby. The cabins follow the curve of the stairs, creating gently curving geometries, which are completed by curved desks and cleverly designed bathrooms. All these elements help create the illusion of space by applying extended sightlines.
The owner's cabin is an oasis of tranquility and has a private library, a large lounge spanning the entire width of the yacht and his & hers bathrooms with separate walk-in closets. This beautiful suite is flooded with natural light through the large portholes, strongly connecting the inner and outer worlds.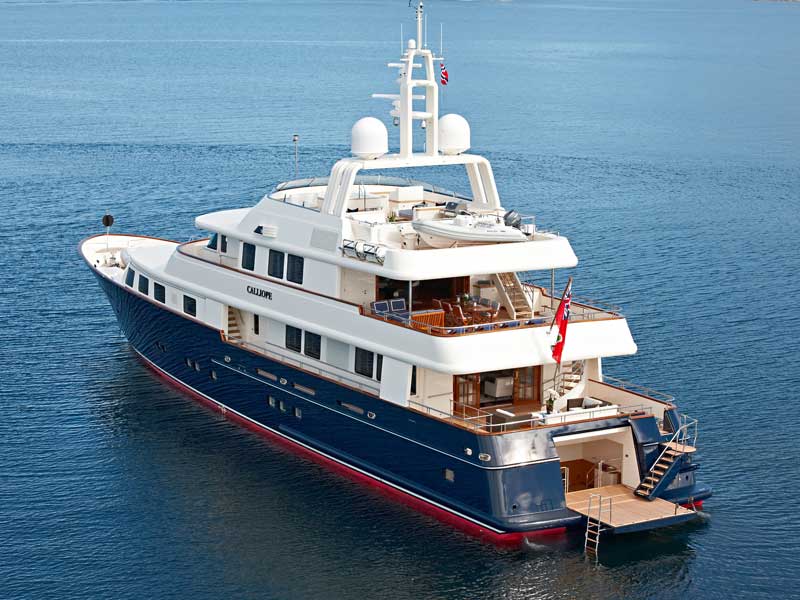 Entertainment
On board you can find everything you need. Entertainment systems include state-of-the-art audio-visual systems, satellite TV, DVD and stereo music in all cabins, an extensive book, film and music library, Control 4, Apple TV, Bluetooth connections, Satcom & GSM communication facilities, VSAT and a Wi-Fi network.
Fabulous Character is equipped for an active holiday with various dinghy's and tenders, an inflatable sailing boat, water scooters, kayaks, paddle boards, extensive professional diving and fishing equipment, water skis and a range of onshore sports equipment and bicycles.
Fabulous Character offers luxurious accommodation in a beautiful, yet sophisticated setting that makes the most of natural lighting.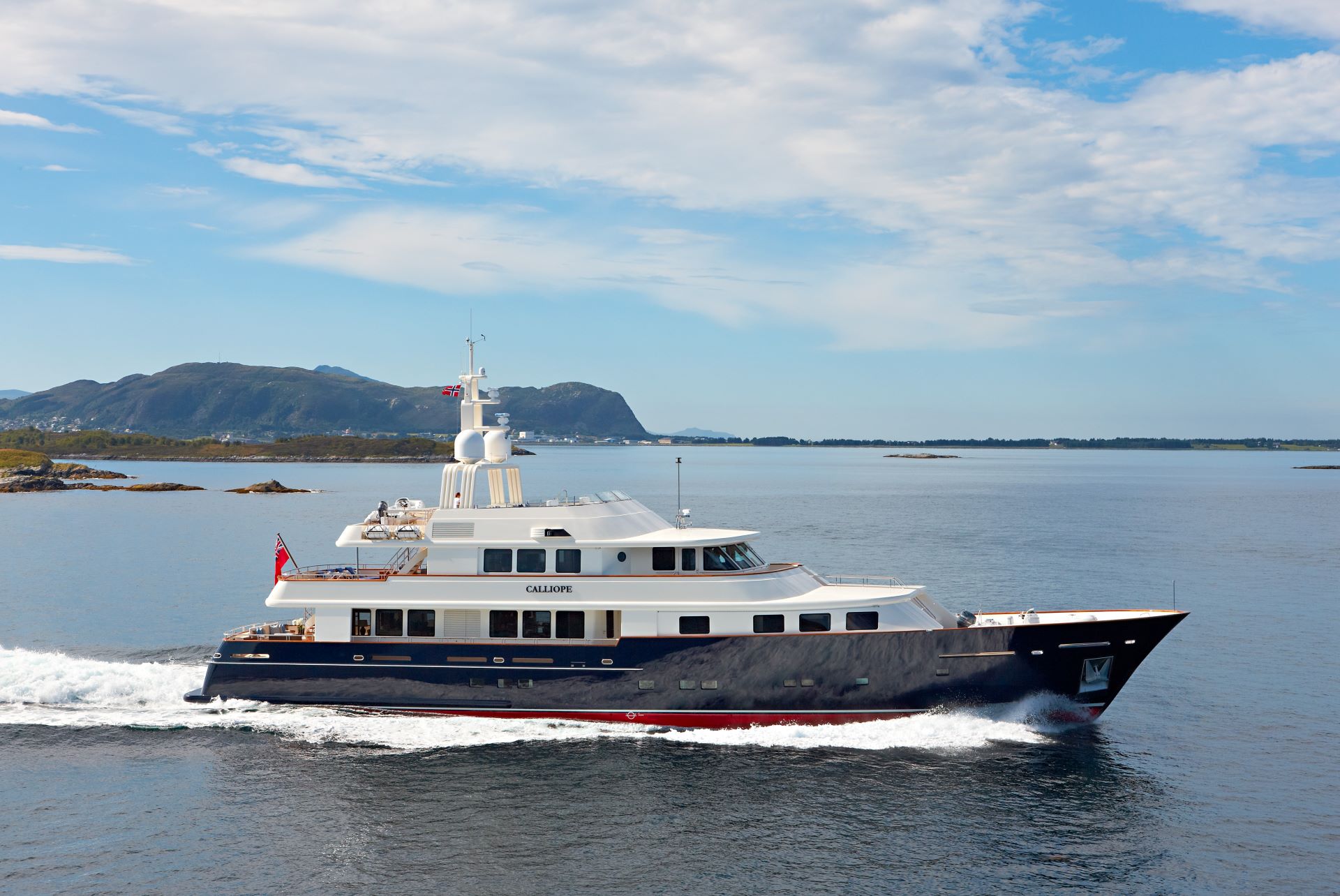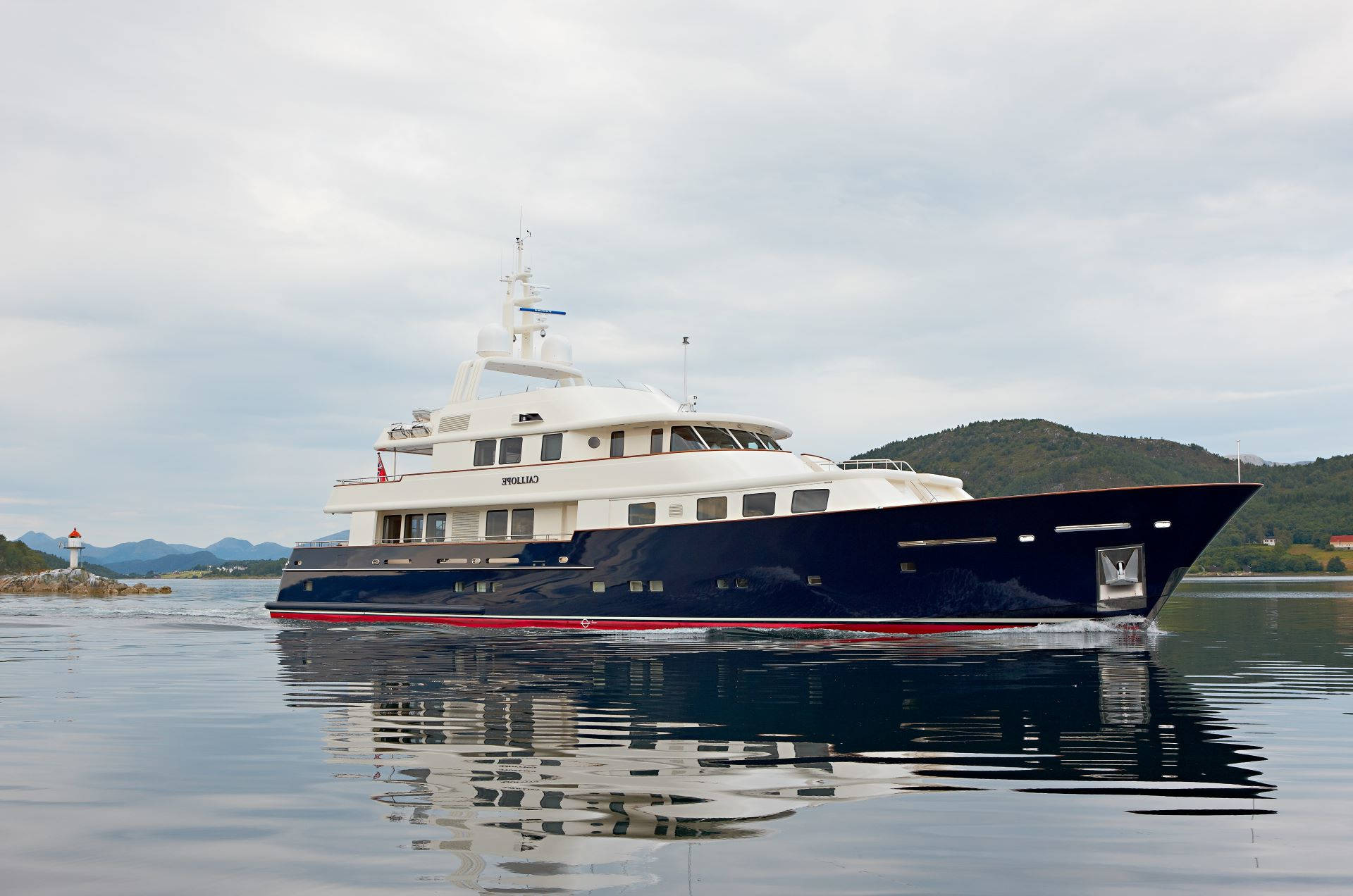 Specifications
| | |
| --- | --- |
| Length Overall | 42.28 m (197 ft) |
| Length Waterline | 38.25 m (197 ft) |
| Beam | 8.40 m (43 ft) |
| Draft | 2.55 m (13 ft) |
| Displacement | 330 tons |
| Year of Launching | 2010 |
| Design | Langan Design Associates Inc. |
| Interior design | Rhoades Young Design |
| Guests | 10 |
| Crew | 9 |
| Engine(s) | 2 x MTU 16V 2000 M72 Diesel, 1924 HP, 1435 kW |
| Cruising speed | 15 knots |
| Top speed | 16.5 knots |
Exterior
Rear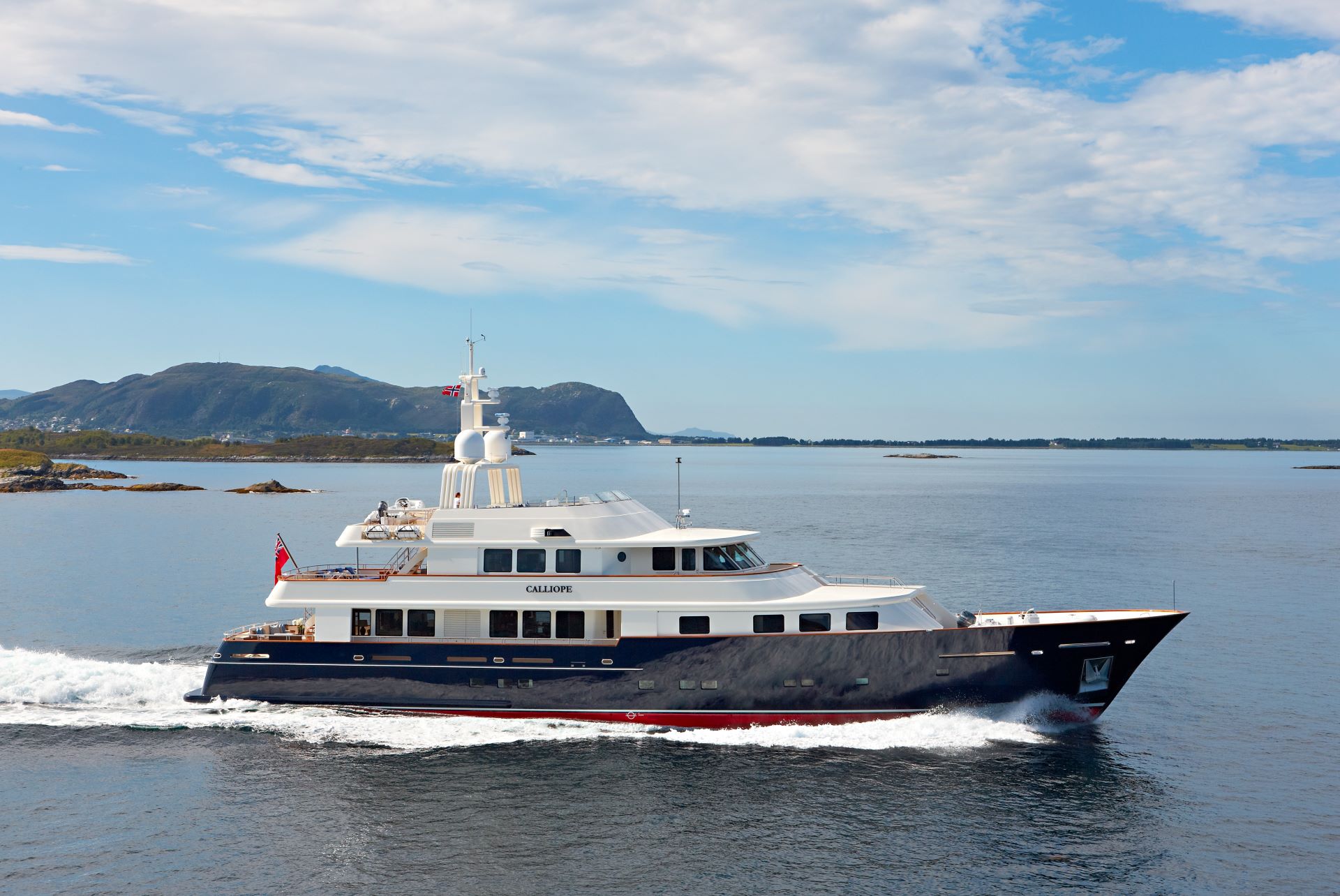 open waters
Shallow waters
Interior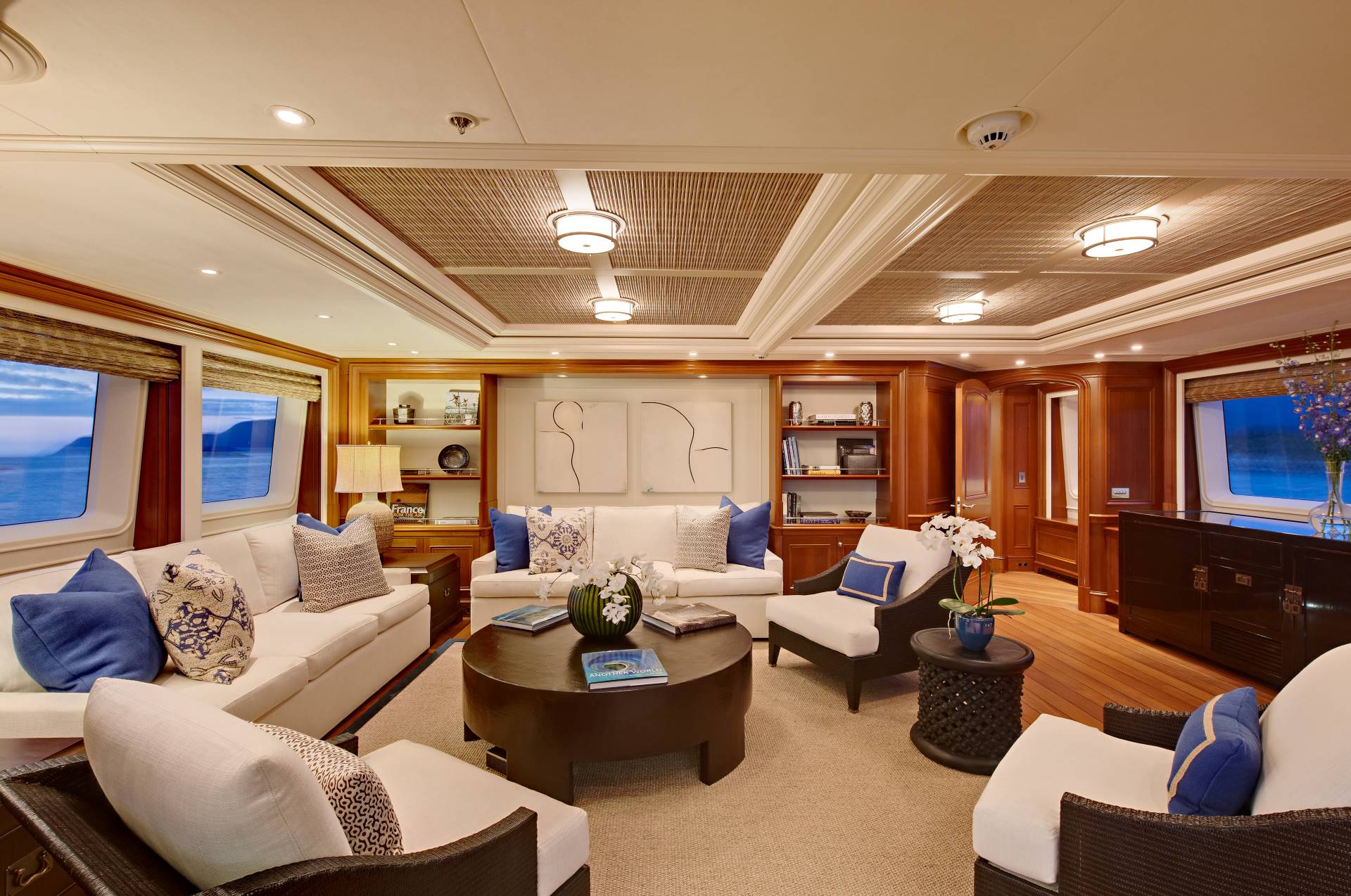 Inside