S/Y nyima
Formerly known as: Christoffels Lighthouse, Emmaline & Carl Linné
About nyima
NYIMA, Tibetan for sun, is a 32-metre sailing yacht that was launched in Zaandam in 2003 under the name Christoffel's Lighthouse. She has also sailed under the names Emmaline and Carl Linné, the latter after an 18th-century Swedish biologist, physician and zoologist.
NYIMA's design is based on the look of the Bristol Channel Pilot Cutters; 19th century sailboats that were highly maneuverable, fast and easy to handle with a small crew. This enabled them to quickly transport local sea pilots to and from large ships in all weather conditions, in order to have them help with safe navigation to or from Channel ports. In addition, her lines are inspired by the participants of the 1885 America's Cup: Puritan and Genesta.
Dykstra Naval Architects combined modern technology with classic style and traditional elegance when designing both the exterior and interior of NYIMA. She embodies speed, strength, suppleness, beauty and efficiency. This versatile sailing yacht has a retractable keel and with a total length of 32 metres is ideally suited for long distances at sea. Thanks to the lifting keel, she can access the shallowest ports and anchorages, thus fulfilling her destiny as a true world explorer. NYIMA was nominated for the Boat International Superyacht Award.
Her simplified and carefully planned deck layout allows for short-handed sailing and thanks to the raised buoy she offers a relatively safe deck working area.
Interior
NYIMA's configuration is designed to accommodate up to six guests. There are three guest cabins on board, including the master cabin, a twin bed cabin and a double bed cabin. The luxurious master cabin spans the full width of the ship and has its own access with private cockpit. Furthermore, the sailing yacht offers accommodation for four crew members, divided over two sleeping quarters.
Technique
NYIMA has a displacement aluminium hull and a teak superstructure with teak decks. She is built to Lloyds Register 100 A1, LMC, and LYC classification regulations and meets MCA standards.
The sailing yacht is powered by a Lugger (L6108) 300 hp diesel engine and is propelled by a single propeller. She achieves a top speed of 10 knots on engine and cruises comfortably at a speed of 9 knots, achieving a range of 1000 nautical miles. In 2015, NYIMA had a refit.
Entertainment
To provide complete comfort and convenience to her guests, NYIMA is equipped with several state-of-the-art entertainment systems, including various audiovisual equipment such as DVD players, LCD TVs, Bose AV Lifestyle system, apple connectivity and a CD/ radio in every cabin. Onboard communications systems include a GSM Triband phone, Iridium global telephony and Sat C global email, powered by Inmarsat Broadband Internet and Telephony.
For sporting entertainment, NYIMA has a Novurania TR380 tender with a 30 hp outboard motor, extensive fishing tackle, snorkeling equipment, kayaks, surf equipment, a wakeboard, inflatable toys and a hydrophone for whale-finding.
NYIMA embodies speed, strength, suppleness, beauty and efficiency.
Specifications
Length Overall
32.35 m (106 ft)
Length Waterline
23.56 m (77 ft)
Beam
6.80 m (22 ft)
Draft (min – max)
2.60 m – 4.40 m
(9 ft – 14 ft)
Displacement
82 tons
Year of Launching
2003
Design
Dykstra Naval Architects
Interior design
Dykstra Naval Architects
Guests
6
Crew
4
Engine(s)
Lugger diesel (L6108) 300 pk
Cruising speed
9 knots
Top speed
10 knots
Exterior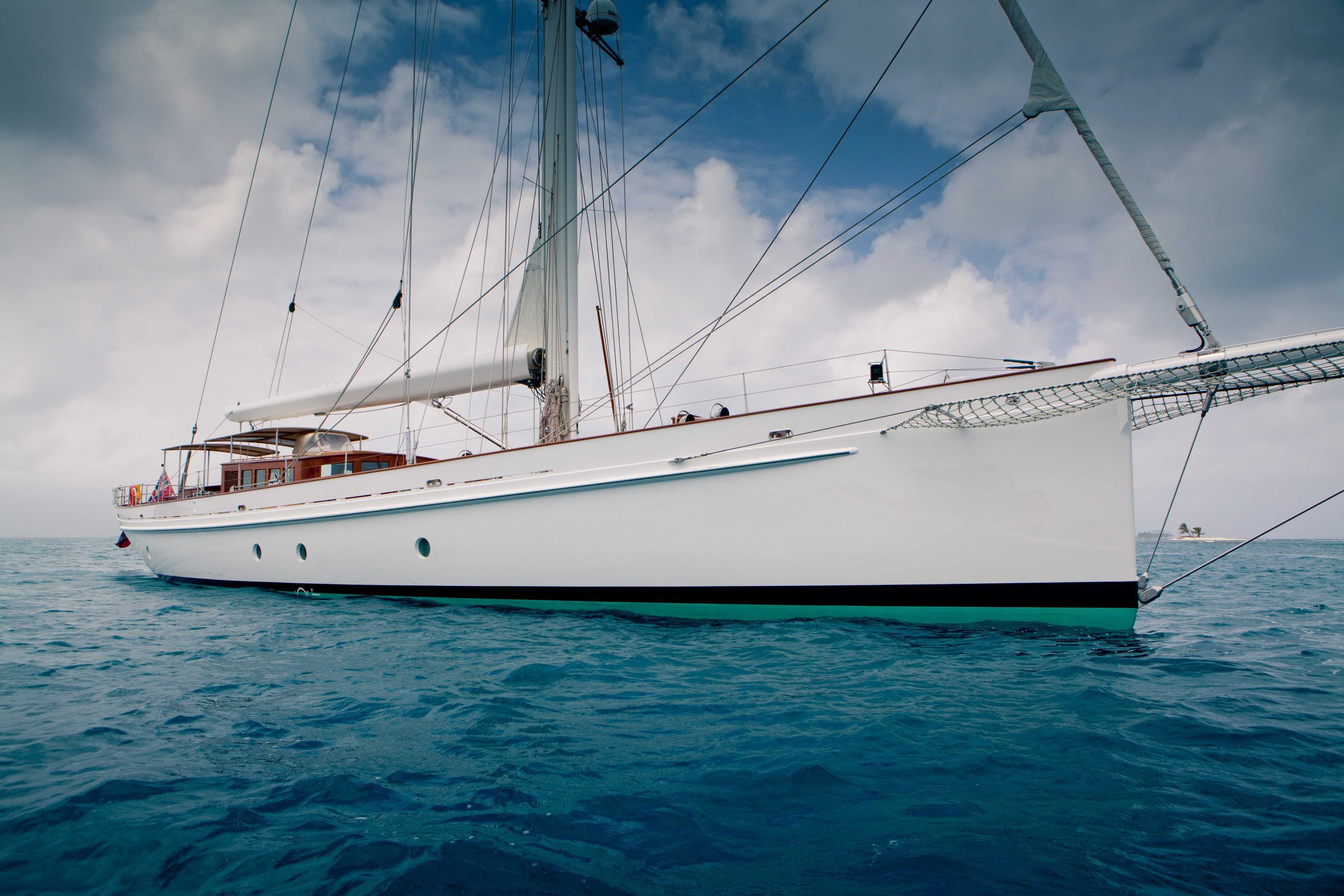 overview
open waters
Shallow waters
interior