S/Y Rainbow
About RainBOW
The multiple award-winning J Class yacht Rainbow was launched at the Holland Jachtbouw shipyard in 2012. This spectacular J was based on William Starling Burgess' original Rainbow, winner of the America's Cup in 1934. Her impressive track record, eco-consciousness, and technique, but also her luxury comfort and style make her to be one of a kind within J Class. Rainbow's innovation and style have received a lot of praise from the industry. At the 2013 Showboat Design Awards she won the Naval Architecture Award for sailing yachts and was a finalist for the Interior and Exterior Design Awards for sailing yachts as well. On top of that, Rainbow won the award for Best Sailing Yacht for 40m+ at the 2013 World Superyacht Awards.
Rainbow is equipped with an elegant classic Art Deco interior, designed by deVosdeVries Design. This interior is characteristic for the glorious 1930s. In addition, she was the first to have an innovative, hybrid propulsion and power system. Her luxury accommodation has not in any way compromised her performance, illustrated by her proven track record on the race course.
Designed by Dykstra Naval Architects, Rainbow is true to her original lines plans. The aluminium hull was built by Bloemsma Aluminiumbouw and meets all the requirements of Lloyds Register, MCA Classification and the J Class Association.
Interior
Rainbow's stunning finish is down to the Holland Jachtbouw craftsmen who worked tirelessly to provide exactly the correct finish both above and below decks, giving her a unique appeal. Unlike the original Rainbow, her interior is fully fitted for elegant comfort. She has beautifully detailed mahogany panelling, lightly stained oak cabin floors and is fitted with antique lighting fixtures and other high-end materials such as marble. All this contributes to the recreation of the exuberantly luxurious and characteristically elegant Art Deco style of the 1930s.
The panoramic 360-degree view from the raised deck saloon offers breathtaking views while comfortably lounging. Stairs in the deck cabin lead to the main saloon of Rainbow, which allows up to eight guests to enjoy their dinner at the custom-built mahogany dining table. Opposite of the table, the L-shaped settee/daybed and cocktail table offer space for lounging and entertainment.
Spread over three luxurious guest cabins, Rainbow can accommodate a total of eight guests. The master cabin has a queensize bed, wardrobes, a desk on either side and an en suite bathroom. The other guest cabins are equipped with twin beds and Pullmans. Apart from the guest cabins, this beautiful sailing yacht also accommodates six to eight crew members.
Technique
Rainbow is the first J Class to have a unique hybrid propulsion and power system. This state-of-the-art system was built by the Dutch company WhisperPower, in close collaboration with Holland Jachtbouw. The WhisperPower system consists of a 50kw main engine with an integrated flywheel generator to provide power. The Genverter 50 (Hy-Gen 50kw) is the second power source: a lightweight variable speed generator, which is very energy efficient, but also exceptionally quiet. Both power sources are connected to Li-ion batteries (Hy-store) which is where the power is stored. These batteries work as a buffer as well, enabling electrically cruising for a minimum of 3 hours. Rainbow's batteries can be charged while sailing, drastically reducing the carbon footprint.
Even though she was built to participate in J Class races, Rainbow is also utterly fit for cruising and chartering. The mast and boom are made out of carbon by Southern Spars, the standing rigging is carbon fiber/ECsix and her running rigging is Dyneema.
Whether Rainbow is used for racing or cruising; sailing with her is always an unforgettable experience!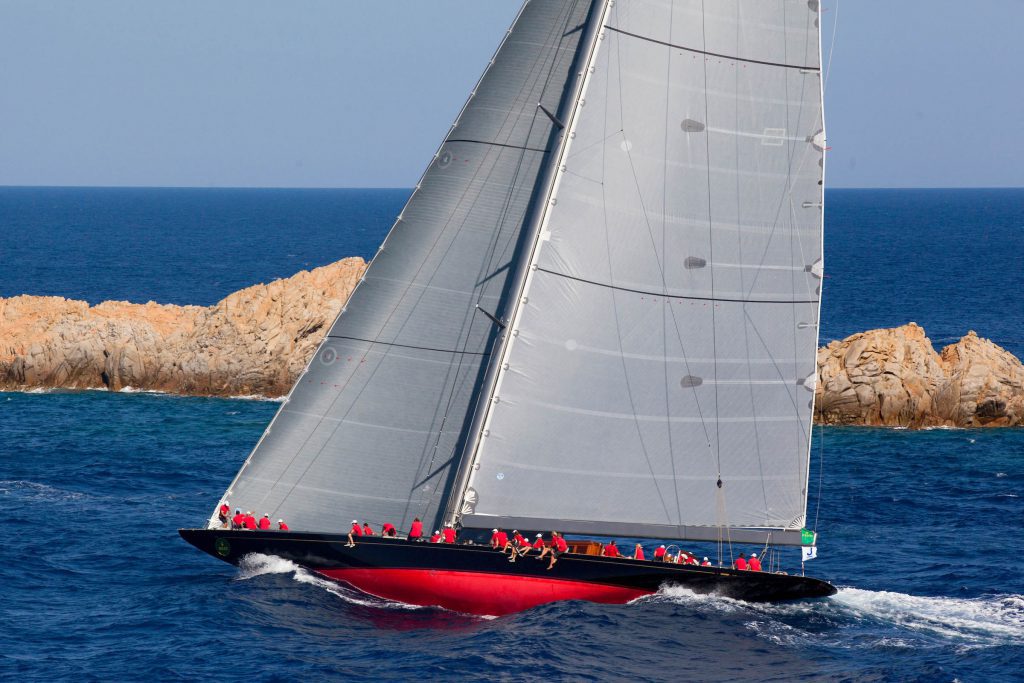 Her luxury accommodation has not in any way compromised her performance, illustrated by her proven track record on the race course.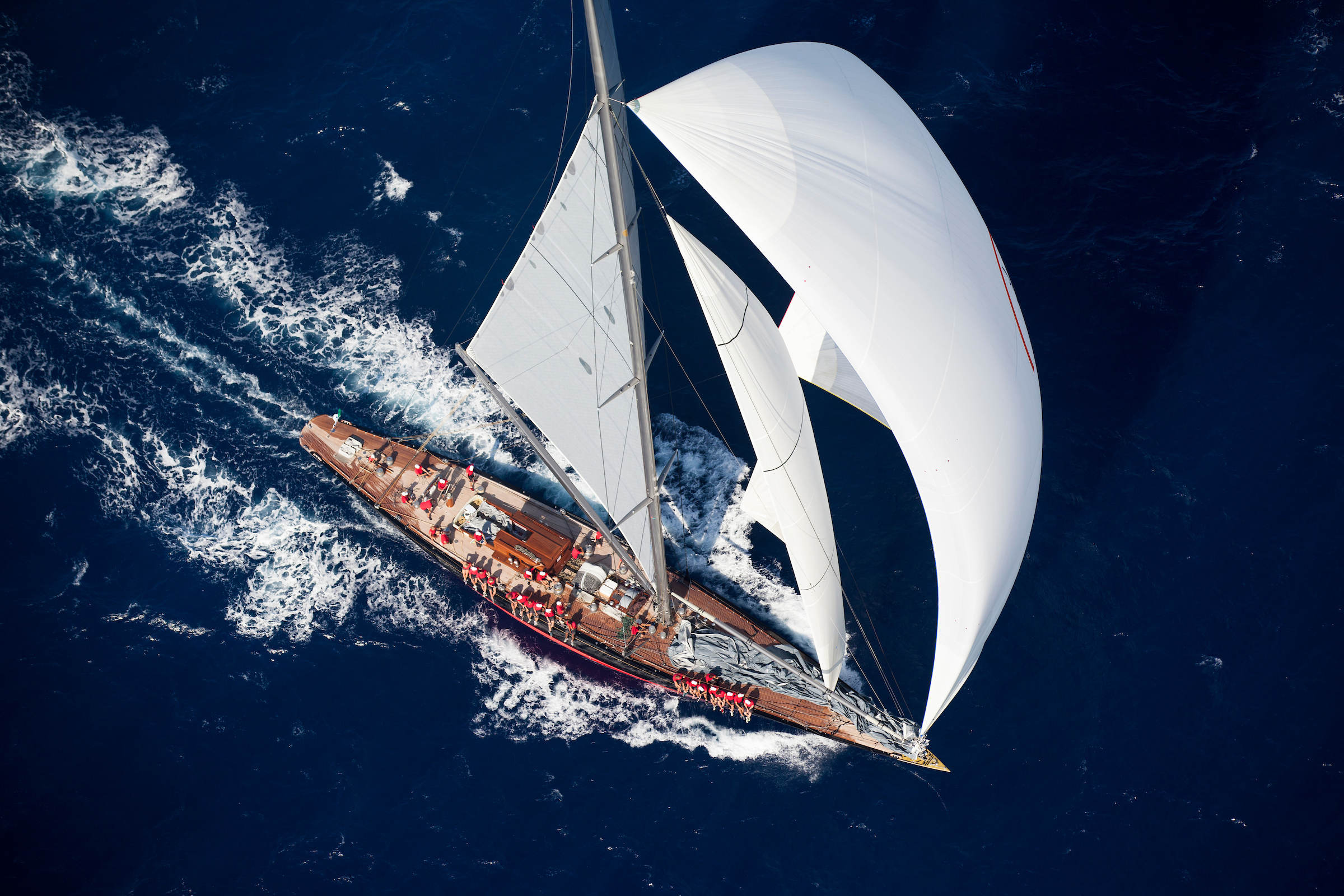 Specifications
| | |
| --- | --- |
| Length Overall | 39.95 m (131 ft) |
| Length Waterline | 30 m (98 ft) |
| Beam | 6.1 m (20 ft) |
| Draft | 4.88 m (16 ft) |
| Displacement | 176 tons |
| Year of Launching | 2012 |
| Design | William Starling Burgess, Dykstra Naval Architects |
| Interior design | Devosdevries Design, Dykstra Naval Architects |
| Guests | 6 – 8 |
| Crew | 6 – 8 |
| Engine(s) | Scania DI 12 59 M |
| Cruising speed | 9 knots |
| Top speed | 11 knots |
exterior
interior